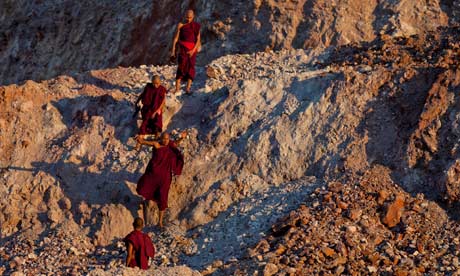 ?
30 November 2012
Civil Society and Community Groups Condemn the Violent Crackdown on Protest Against the Letpadaung Copper Mine in Burma We, the undersigned civil society and community based organizations, condemn yesterday?s brutal crackdown against protesters who have been calling for the suspension of the Letpadaung copper mine near Monywa, Sagaing Region in Burma. This violence is the latest example that reforms in Burma are only superficial; there is a long way to go for freedom of expression, assembly and association, land rights and the rule of law to be respected in Burma.
In the last three months, local farmers and human rights activists, later joined by Buddhists monks, have protested against the copper mine and its damaging impacts. In the early morning of 29 November, authorities resorted to old violent methods in a clear attempt to put an end to the growing protest movement. Riot police attacked protest camps near the Letpadaung mine, firing water and tear gas. Fires tore through the camps, burning monks and laypeople, most of whom are now seeking medical attention in makeshift hospitals.
The Letpadaung project is a joint-venture between China?s Wan Bao Company and the military-owned Union of Myanmar Economic Holdings Ltd. It has resulted in land confiscations, environmental degradation, and the implementation of a policy of arresting and harassing peaceful protestors. The project must be suspended in order for there to be a thorough assessment of its impacts on local communities and the environment, for measures to be put in place to mitigate future negative impacts and compensation paid for damages already done.
In addition to yesterday?s heavy-handed crackdown, earlier this week, six key organizers of supporting protests in Rangoon were also arrested: Ko Wai Lu, Daw Shan Ma, Ko Myo Chit, Ko Ye Lin, Daw Naw Ohn Hla and Ko Nyi Nyi. They were originally arrested under Article 18(b) of the Peaceful Assembly and Peaceful Procession Law for protesting without permission. However, they have since been charged under section 505(b) of the penal code for committing or inducing others ?to commit an offence against the State or against the public tranquility.?
This section of the penal code has been identified by the UN Special Rapporteur on the situation of human rights in Burma, Tom?s Ojea Quintana, in his report to the Human Rights Council in March of this year, as not complying with international human rights standards. It has been employed systematically to detain political activists and those who oppose the government. We join Mr. Quintana in calling for this section of the penal code to be repealed.
We are also extremely concerned about the well-being of four organizers of the Rangoon protests for whom authorities have issued arrest warrants: Ko Han Win Aung, Ko Thi Ha Win Tin, Ko Aung Naing Thu and Ko Moe Thway. They are currently in hiding.
We therefore call on the government of Burma to immediately:
? Suspend the Letpadaung copper mine so there can be an adequate assessment of impacts of the project, including compensation for damages already incurred;
? Conduct an independent investigation with international experts into the crackdown on 29 November in order to seek truth and to provide justice for the victims;
? Release all those who have been arrested in connection with protests in Monywa, Rangoon and Mandalay, cancel existing warrants, and clear their criminal records; and,
? Repeal or amend all laws that do not conform with international human rights standards, including but not limited to, the Peaceful Assembly and Peaceful Procession Law section 505(b) of the penal code, in order to make them comply with international human rights law.
Endorsed by:
Actions Birmanie
All Kachin Students and Youth Union
Altsean-Burma
Arakan Human Rights and Development Organisation
ASEAN Inter-Parliamentary Myanmar Caucus
Asian Forum for Human Rights and Development (FORUM-ASIA)
Association Suisse-Birmanie
Back Pack Health Worker Team
Burma Action Ireland
Burma Campaign Australia
Burma Campaign UK
Burma Centre Delhi
Burma Partnership
Christian Solidarity Worldwide
Dignity International
Ethnic Human Rights Network
Forum for Democracy in Burma
Free Burma Campaign (South Africa)
Generation Wave
Hong Kong Coalition for a Free Burma
Info Birmanie
Institute for Asian Democracy
Karenni Civil Societies Network
Kuki Students Democratic Front
Myanmar Youth Empowerment Programme
Myanmar Youths in Action
Nationalities Youth Forum
Network for Human Rights Documentation – Burma
Assistance Association for Political Prisoners – Burma
All Arakan Students' and Youths? Congress
Burma Issues
Chin Human Rights Organization
Earth Rights International
Human Rights Education Institute of Burma
Human Rights Foundation of Monland
Kachin Women's Association (Thailand)
Lahu Women's Organization
Palaung Women's Organization
Pa-Oh Youth Organization
Ta'ang Students and Youth Organization
Yoma3 News Service
Pax Romana ICMICA Asia
People's Forum on Burma (Japan)
Rohingya Arakanese Refugee Committee
Rohingya Youth Development Forum
Refugee News Network
Society for Threatened Peoples ? Germany
Students and Youth Congress of Burma
Swedish Burma Committee
Taiwan Free Burma Network
Tavoyan Women?s Union
The Best Friend Library
United Lahu Youth Organization
US Campaign for Burma
Women?s League of Burma