Prof. Dr. M. Ashraf Khan
Taxila Institute of Asian Civilizations
Quaid-i-Azam University Islamabad, Pakistan
Pakistan is an important region in South Asia since ancient time. It served as a pivotal point of Buddhism from centuries that's why it is called a "Holy land of Buddhism". The territory of Gandhara is spanning over a vast area of Khyber Pakhtunkhwa., Taxila valley (northern Punjab), lower Indus valley and whole of Kashmir. Actual Gandhara forms a triangular shaped purlieu which lies between 100km in east and west and 70km in north and south. But Gandhara art crossed geographical barriers and stretched towards Eastern Afghanistan, Uddiyana, Balkh, Swat Valley, Dir, Buner, Bajaur and Peshawar valley to Kashmir (Khan and Lone 2004: 7).
Different dynasties governed this area and transformed its socio-political, economic, religious and artistic perspectives according to their own ways. They incorporated their own cultural elements in Gandhara art and architecture to enhance its beauty .As the life story of Buddha has been depicted in Gandhara art and architecture so stupa was the very first monument erected in Gandhara to commemorate Lord Buddha. Buddhism spread in Gandhara in a very short duration of time and a Mauryan king Asoka proved to be a catalyst in propagation of Buddhism. He had been responsible for the opening of original nine stupas and redistributed Buddha's relics in the core regions of Buddhism.  This foot step triggered construction of first Buddhist monuments in the region of Gandhara such as at the sites of Dharamarajika in Taxila and Butkara I in Swat Valley of Pakistan dated back to 3rd Century BCE. And the stupas were decorated with many Buddhist cult symbols and foreign cultural influences (Luczanits 2008: 73). One of the most remarkable heritage among is the Buddhist heritage, including multiple Buddhist sites, stupas and artefacts spotted all over Pakistan. It can be said that Pakistan is the home to two major civilization of the world, Indus and Gandhara Civilization. Gandhara is the ancient region invaded by Alexander the great in 326 BCE (Harle 1994: 22). On the other hand, according to an ancient Indian epic 'Ramayana' elaborates that Gandhara was conquered by Bharata, a brother of Rama (who basically founded two major regions for his sons named 'Pukaryat or Pushkalawati' known as Charsadda today and 'Takail or Takshasila' known as Taxila today).
Map 1, Map of Gandhara (Michael Hansen 2008)
Gandhara realm lasted from early 1st millennium BCE to 11th Century CE and was at its zenith during Kushans from 1st Century to 5th Century. The literary mean of Gandhara is 'land of fragrance'. Gandhara Art is divided into two phases, an-Iconic phase and Iconic phase. Several major powers ruled over Gandhara but the reverence for Buddhism can be seen in almost every ruler. The other common notable feature was the adaption of Indo Greek artistic tradition (Zwalf 1996: 14).
Spread of Buddhism in Gandhara
Buddhism reached Gandhara around 3rd Century BCE and played  a central role in Indian Sub-continent for decades. It can be said that Gandhara was the gateway for spreading Buddhism to Central Asia and China (Pia and Kurt 2006: 04). This new religion (Buddhism) flourished rapidly and gain local patronage. The oldest evidence of Buddhism in Gandhara can be found through 'Ashoka edicts' established by 'King Ashoka'. 'Gandhari language' has been used over Ashoka edicts which identifies the presence of Buddhism in Gandhara. There were six stupas founded by 'King Ashoka' as stated by Xuan Zang. Whereas the largest one is Dharmarajika Stupa, Taxila, Pakistan. King Menander-I was a great supporter of Buddhism so as he promoted this religion as much as he can during his reign. It was due to the Greek influence over the art of Gandharan Buddhism that for the first-time anthropomorphic representation of Buddha can be observed.
Kushans was also in favor of Buddhism, hence promoted the construction of monasteries and stupas. Due to the utmost struggle, end of 2nd century CE there were number of Buddhist centers found in Gandhara. The capital city of Kushan empire (Peshawar) had several Buddhist stupas and monasteries, besides this narrative relief and sculptures were erected depicting the life scenes of Buddha. Around 3rd century, the slight increase can be observed in the patronage of Buddhist sites. The Buddhist sites of this period included Taxila, Takht-I-Bahi, Sehri Bahlol, Jamal Garhi, Ranigat and Tharei. It is due to the Kushan's support for Buddhism that this religion continues to spread rapidly to Bactria, Central Asia and China along the Silk Road. It also established the assured trading route from Gandhara to Asia. The main of Kushan period are Butkara Stupa and Barikot (Swat), Pakistan. During the second half of 5th century, the decline of Kushans has been started with the arrival of White Huns in Gandhara. But soon after the breakdown of White Huns around 6th century, the decline of Buddhist sites can be observed. Several abandoned sites in Gandhara region was identified by Chinese Monk Xuan Zang, after his visit. Though, Buddhism sustained flourishing outskirts of Gandhara. One of the main cities of Buddhist activity was Bamiyan (Afghanistan), remains of monumental Buddha sculptures known as 'Buddhas of Bamiyan'. These monumental sculptures are dated back to 3rd-6th century CE and appears as the resilient Buddhist site in 7th century. Other important Gandharan site regarding Buddhism was Gilgit on Silk Road (Rehman 1996: 75).
Buddhist Stupas and Monasteries in Pakistan
Large number of Buddhist sites, preserving stupas, monasteries, viharas, settlements, caves, rock carvings and inscriptions are scattered all over Pakistan. The most famous of all the Chinese pilgrims, Hsuan-Tsang, graced the Swat valley by his presence in the 7th century CE and mentioned 1400 monasteries in Swat that eloquently confirmed the extensive remains of the Buddhist period. Even today over 400 Buddhist stupas and monasteries still can be seen in Swat. The Buddhists built mostly their stupas and monasteries higher on the hills with the aim that agricultural economy may not suffer and to provide a sort of protection and security to them from the invaders. Another renowned city regarding Buddhist heritage is Taxila valley in Pakistan.
Details of few monasteries has been mentioned below:
Mankiyala is a round stupa located in District Rawalpindi dated back to 3rd Century BCE. In 1830 Mankiyala stupa was discovered by five hundred workmen in the supervision of an Italian General Jean Baptiste Ventura (1792) who was employed by Maha Raja Ranjit Singh. They found coins as well. In this way first scientific publication was published on Gandharan Buddhist findings. The stupa of Mankiyala was the first Buddhist monument (Bautze .K Joachim 2008: 44). It has again round stupa with a row of Corinthian pilasters around the drum and stairs in front of the plinth.
Fig. 1, A General View of Mankiyala Stupa, Rawalpindi
The earliest Buddhist stupa and monastery is found in Dharmarajika (3rd Century BCE) which is located three kilometers from Taxila Museum. It was erected by Mauryan king Ashoka. He was called "Dharmaraja" because he was a Buddhist devotee. For this reason Dharmarajika is an ample example of his Buddhist faith. This stupa is round in shape similar to that of Sanchi in India. The massive anda is still 15 m high with base diameter of 50 m. The circumbulatory path or pradakshina patha is constructed at ground level. This stupa has circular plan with cylindrical base followed by anda on top of the base as well as vertical continuation of superstructures (Jansen 2008: 291).
Fig. 2, A General View of Dharmarajika Stupa, Taxila Valley
Butkara I (3rd century BCE-10th century CE) in Swat Valley. It was mentioned by Sung Yun, who visited the area in 520 CE. It was also described by the Buddhist pilgrims from China in the 5th, 6th and 7th centuries CE. It lies in the East of Mingora, the ancient capital of Uddiyana. The main Stupa stands tall in the middle, surrounded by other Stupas, Viharas and columns. The main building is on its Northern side and inhabited area is in the North and West. The Great Stupa was renovated and extended for several times, from 3rd century BCE down to 10th century CE.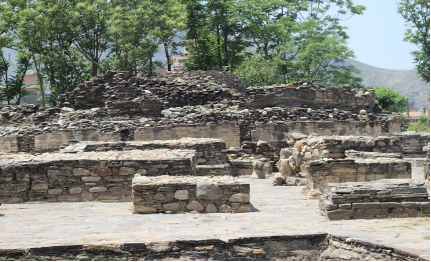 Fig. 3, A General View of Butkara I Stupa, Swat Valley        
Fig. 4, Garland Bearers from Butkara I (Swat Museum)
Nimogram Stupa and Monastery (1st – 5th century CE) in Swat Valley. The place of an archaeological importance, Nimogram is in the Shamozai Valley of Swat, which is located about 45 km in the West of Saidu Sharif and 22 km from Bairkot, on the right bank of Swat river. Nimogram was discovered in 1966. It consists of three main Stupas in a row, from North to South. There is a courtyard with 56 consecrated Stupas and a Monastery, adjacent to the West of the main Stupas. The definite history of Nimogram Stupa could not be revealed, yet the coins found there, indicating towards the period of Kushana, dated back to the 2nd or 3rd century CE. Besides the coins and pottery of Scytho-Parthian period, there are many stone-carving and Stucco sculptures, which illustrates the Buddhist Mythology.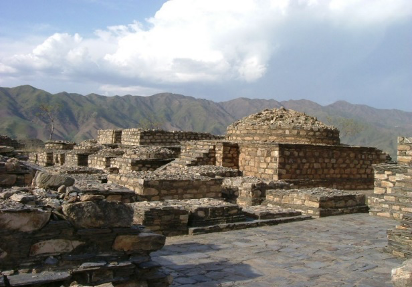 Fig. 5, A General View of Nimogram Stupa and Monastery, Swat Valley
The site of Gumbatuna is a Buddhist establishment situated on the right bank of the river Swat, 6km west of Barikot village along the metaled road leading towards Nimogram in a wide valley. The lower zone comprises the main stupa encompassed by the votive stupa and columns bounded by the enclosure wall. The main stupa stands on a square plinth. The huge stupa is probably the best preserved in ancient Udyana consisting of a dome, upper and three lower drums. The drums of the stupa is cylindrical in shape. The stupa is ascended by a flight of twelve steps on the east side leading to the top of the podium. A circumambulation path of schist stone was provided around the base molding of the stupa plinth. The masonry of the main stupas is executed in diaper.
Fig. 6, A General View of Gumbatuna Stupa and Monastery, Swat Valley
The Buddhist site of Tokar-dara (Najigram) is situated about 5km on the south of Barikot on the way to Karakar pass. The site consists of a large stupa, the associated monastery, living quarters, assembly hall, and an aqueduct cave, two other stupas badly damaged and several unidentified remains. The Large Stupa is probably the best preserved in this area. It consists of a hemispherical dome, upper and lower drums resting on a square podium. The main stupa was surrounded by the votive stupas which have been destroyed by unauthorized diggers. Faint traces of the votive stupa can still be seen. The stupa had already been dug out at the center from the top in search of antiquities by the robbers which damaged the stupa structure and the surface finds.
Monastery: The monastery is rectangular in plan. It has two entrances one on the north leading to the main stupa and another on the south leading to an assembly hall. There are six domed cells, square in shape. Some of the cells still reserved the vaulted roof. There are ventilators and small niches in each cell for keeping statues or lamps.
Assembly Hall: Near the south-western corner of the monastery court, there are the high walls of a big hall probably used as an assembly hall for the Buddhist community. Ruins of isolated cells lie on the slope of the valley against the rock.
Cave: On the eastern side of the glen, about 45m above the monastic quadrangle, lies a cave with its high entrance, blocked about half of its height by a wall. This cave was probably used by the monks for meditation.
Aqueduct: In the area along the streamlet, are the remains of an aqueduct for the purpose of bringing water for domestic use, ablution and also for irrigation purpose. Below the aqueduct, there are the remains of another ruined stupa about 1.82m in height.
Fig. 7, A General View of Najigram Stupa, Swat Valley
The Buddhist site of Panr (1st-5th century CE) is built on two terraces on the side of the clay hill. Site comprises of one main stupa having south facing stairway. The main stupa is surrounded by votive stupas.
This site was also excavated by Italian Archeological Mission with the collaboration of Department of Archaeology and Museums, Government of Pakistan.  During the excavation large number of antiquities were found including stone, stucco sculptures, pottery and other objects that are housed in Swat Museum.
Fig. 8, A General View of Panr Stupa, Swat Valley
The stupa of Shingardar is situated about 3km to the northeast of Barikot village, by the left side on the road from Mingora to Mardan. Originally the plinth of the stupa was square in plan, but the inhabitants of the village removed the well-dressed facing stone and for the construction of their houses and road. The stupa consists of lower drum decorated with two cornice, upper drum and a dome. The total height of the stupa from dome to the existing base is 27m. The upper cornice is marked by a shallow recess about 0.50m high producing a light and shade effect. The masonry comprise large dressed slabs of white stone separated by small columns of dark slate pieces. On the eastern and southern sides of the stupa about 15 meters from the base, traces of Buddhist settlement can be seen, now occupied by the modern houses.
Fig. 9, A General View of Shingardar Stupa , Swat Valley
Takht-I-Bahi is located on a raised spur from the plain in district Mardan in Khyber Pakhtunkhwa. It was founded in the early 1st century CE, spectacularly positioned on various hilltops. This Buddhist monastery was in continual use until the 7th century CE. It is composed of an assemblage of buildings and is the most complete Buddhist monastery in Pakistan. The buildings were constructed of stone in Gandhara patterns (diaper style) using local dressed and semi-dressed stone blocks set in a lime and mud mortar. Modern day, the ruins comprise a main stupa court, votive stupas court, a group of three stupas, the monastic quadrangle with meditation cells, conference hall, covered stepped passageways and other secular buildings.
Bellow stated in 1864 about the original entrances of the site. Bellow found broken pottery with inscribed Kharoshti. Later on, Spooner wrote about his assumption of underground structures which was proved during his excavation in 1909 by the discovery of a window in western wall. Those explorations reported the main stupa, votive stupas, images of Buddha, Bodhisattva, cult objects and a considerable number of elephant brackets (Hargreaves 1910 II: 33-39).
Fig. 10, A General View of Takht-I-Bahi Monastery, Peshawar Valley
Fig.11, Bodhisattva (Peshawar Museum)
Fig 12, Head of Bodhisattva Maitreya (Hund Museum)
Julian is situated away from Taxila, over a mountain rises around 100 meters above the surrounding country. The cells of this monastery are enclosed by a rectangular central court with verandas same as the other monasteries in Gandhara. This monastery is surrounded by a bathroom, an assembly hall, a storeroom, kitchen, latrine whereas there is no evidence of well has been found. Main stupa is damaged badly and enclosed by 21 votive stupas. These stupas are beautifully decorated having Greek influence. The carved motifs have been modified by Buddhist artisans around 2nd centuries BCE. Many reliefs of teaching Buddha has been spotted. This monastery was recovered after the invasion of white Huns.
Fig. 13, A General View of Julian Monastery, Taxila Valley
Fig 14, Stucco Sculptures of Buddha
Fig 15, Persian Soldier at Julian
Main stupa of Bhamala is unique, having crossed plan of a giant square base for dome, the projections of which can be seen from all four sides. This region was once a major center of the Buddhist civilization and left an archaeological legacy of art and architecture.
 This is among one of a few sites around the world to have a cruciform stupa, reserved for Buddha himself. Furthermore, the Maha Pari Nirvana statue measures 14 meters in length, making it the largest ever statue of its kind in the history of greater Gandhara civilization.
Fig. 16, A General View of Bhamala Stupa, Taxila Valley
Jinan Wali Dheri (Mound of Evil Spirits is an archaeological site near Taxila, Pakistan. The remains of a Buddhist monastic complex dating to the 5th century CE, part of the Gandhara civilization. It is one of the best-preserved Buddhist monastic complexes in the Taxila valley. The complex includes a main stupa, votive stupas, an enclosure around the main stupa provided with chapels facing towards main stupa, two platforms of rather late period constructed in front of the chapels situated on the both corners of the eastern wall, an upper court votive stupa and a monastery/sangharama on the eastern side of the stupa. Discoveries at Jinnan Wali Dheri include fragments of murals on the walls of the corridor of a monastery leading to the main stupa. The most remarkable discovery at 'Jinnan Wali Dheri' was the mural paintings of the monastery corridor. The paintings depict images of Buddha and figures of worshippers. Most of the paintings have been defaced over the years, but a few fragments of paintings were recovered in a much better condition. The paintings collapsed when the site was destroyed by the White Huns in the 5th century .In 2010, the complex was opened to the public. The antiquities recovered from the stupa include coins of the Kushan dynasty period and a silver coin of the White Huns, pots, jewelry, jars, bowls and other items. These antiques are preserved at Taxila Museum.(Khan and Hassan 2008).
Fig. 17, A General View of Stupa Enclosure of Jinan Wali Dheri, Taxila Valley
Buddhist Monastery of Badalpur (Taxila Valley) is situated about 9 km North West Taxila museum and 2 km North-West of Julian village. Alexander Cunningham, the then Director General of Archaeological Survey of India visited this important Buddhist monastery during 1863-64. Further excavations were carried out the site by the Federal Department of Archaeology and Museums from 2005-2009 led by Muhammad Ashraf Khan, Arif and Mr. Shakir Ali. During the course of excavations a huge number of antiquities have been discovered. But the most remarkable discovery of the excavations is the discovery of a Mathura sculpture of the Buddha made from reddish sand stone. The sculpture depicts a Buddha seated on a throne with a cross legged, both soles of the feet having dharmachakra symbols. The right hand is in abhaya mudra with a wheel of law on the palm. pipal tree is engraved at the back of the sculpture. Similar Mathura style sculpture of Buddha was also discovered from the surface of Bhari Dheri site in Taxila valley. Due to this unique discovery it is very clear that the Mathura images of Buddha from these sites were originated from the soil of Mathura and were presented to these monasteries by some devotees/monks during their pilgrimage to the holy shrine of Taxila in the era of 2nd century CE. Another remarkable discovery is the sculpture of bodhisattva Maitreya and a stupa shaped relic casket in schist stone was also revealed during the past excavation from this monastery (Khan et al 2013).
Fig. 18, A General View of Badalpur, Taxila Valley
Fig. 19, Buddha in Mathura Recovered from Badalpur Monastery, Taxila Valley
Fig. 20, Buddha (Peshawar  Fig.                    21, Hariti (Peshawar  Fig.                        22, Female (National Museum
              Museum)                                                           Museum)                                                               Karachi)
Fig. 23, Buddha with Acetic (Dir Museum)                                     
Fig. 24, Stupa Worship (Peshawar Uni. Museum)
Fig. 25, Buddha Emerging from Lotus f (Hund Museum
Fig. 26, Ichthyocentaur (Peshawar Museum)
Fig. 27, Birth Scene of Siddhartha (Peshawar Museum)
Buddhist Rock Art Along the Silk Route
The unique petroglyphs are spreading across Indus-Kohistan to Baltistan and reaching to Ladakh and Tibet. The rock art sites are extending besides Indus river as well as its tributaries like Gilgit river up to Yasin and the Hunza valley. The complex of the rock art sites are situated between Shatial in Indus-Kohistan and Raikot Bridge.  More than 50,000 rock caring and 5000 rock inscriptions have been found from the same area. These epigraphic documents are starting from Neolithic time (7th/6th millennium BCE) to the arrival of Islam (since 16th Century AD).
The Buddhist petroglyphs were found along Karakoram Highway or Silk Road from Shatial to Khunjarab pass. Buddhism reached at this place about 1st Century CE. Arrival of Buddhism influenced rock art of this area and the prominent engravings comprised of the images of Buddha, Bodhisattvas, Jatakas and stupas. Stupas are very common among them. These human made markings have dark patina. These engraving are the representative of artist's skills. The Buddhist petroglyphs display a variety of iconology and development of architectural methods. The depiction of Buddhism among the Karakorum carvings include predominantly stupa architecture and majority of anthropomorphic Buddha. In execution and style, these Buddhas can be comparable with earliest known anthropomorphic representations of Buddha in the region of Gandhara. This suggests about the 'missing link' between Gandhara and the rise of Chinese Buddhism in Xinjiang, with the Karakorum mountains as linking passageways (Maillard and Jera-Bezard 1994).
The huge image of a seated Buddha carved into a high rock face of reddish color that rises on the hillside to the southwest of Janabad village. It is situated at 5km to the North East of Manglawar. The figure of the Buddha is shown seated on a high throne in the attitude of mediation. The snail shell curls of this Buddha are very carefully rendered. His eyes are more than half closed, there is a prominent Ushnisha and long ear lobes. The folds of the robe are stringy, with a planned alteration of high and low ridges.
Fig. 30, Jenabad Buddha, Swat                
Fig. 31, Veneration of Stupa (Chilas II)
Fig. 32, Depiction of Stupas at Ladakh
Fig. 35, Talphan Seated Buddha
Conclusion
Gandhara is a sacred land which is famous for Buddhism as well as for its propagation in the same area. Still today a large number of stupas and monasteries have been found there which pointed towards the practice of Buddhism at this place. As Gandhara is governed by different dynasties so accordingly its art and architecture had been transformed. But Mauryan monarch were the very first to build stupa in Gandhara, usually the name of Ashoka is associated for Buddhist proliferation.
Silk Route is considered an important route as it was the source of trade and it also played a significant role in the propagation of Buddhism. It is evident from the rock art (Buddhist) of Gilgit Baltistan as Buddhist pilgrims used to illustrate the cult images of Buddhism on huge boulders across their way to pay homage and dissemination of their religion.
Gandhara art is a blend of religious and secular dimensions i.e. basically it portrays Buddhism but at the same time many cultural elements of Greeks and Romans e.g. drinking, dancing and loving scenes have been depicted in this art which is entirely a secular aspect of the west. Beside them, several decorative designs such as acanthus leaves, vine scrolls; architectural patterns i.e. Doric, Ionic and Corinthian pilasters as well as Greco Roman god and goddesses have also been incorporated in this art. Indian and Persian cultural influences are also amalgamated in Buddhist Art of Gandhara.
Bibliography
Boutze. (2008). "The Cultural Geography of Gandhara". Gandhara: The Buddhist Heritage of
             Pakistan; Legends, Monasteries and Paradise. Germany.
Hargreaves. (1910 II). "Annual Report on Excavation at Takht-I-Bahi". Archaeological Survey of India.
Harle. (1983). "An Illustration History of Pakistan". Oxford University Press . Karachi.
Harle. (1994). "The Art And Architecture Of The Indian Subcontinent" . Yale University Press.
Jansen, Michael. (2008). "Towns and Monasteries" . Gandhara: The Buddhist Heritage of
             Pakistan; Legends, Monasteries and Paradise. Germany.
Khan, M. Ashraf  (1999). "Gandhara Art, Origin and Development in Uddiyana Pakistan". Swat: Archaeological Museum Swat. Swat.
Khan, M. A. & Lone, A. G. (2004). "Gandhara". Geography, Antiquity, Art and Personalities. Islamabad.
Khan, M. A. (1993). "Gandhara Sculptures In The Swat Museum" . Archaeological Museum Saidu Sharif Swat. Swat
Khan, M. A. (2008). "Archaeological Discovery at Jinnah Wali Dheri, Taxila Valley". Gandhara:
             The Buddhist Heritage of Pakistan; Legends, Monasteries and Paradise. Germany.
Khan, M. A. (2008). "Excavation at Badalpur Monastery, District Haripur, Khyber Pakhtunkhwa,
            Pakistan: A Preliminary Report of Season 2013". Journal of Asian Civilizations. Islamabad
Luzanits., Christian. (2008) "Early Buddhism and Gandhara". Gandhara: The Buddhist Heritage
                 of Pakistan; Legends, Monasteries and Paradise. Germany. 72-79.
Maillard, M. & Jera-Bezard, R. (1994). "Les stupas de Kuberavahana à Chilas et Thalpan".In G.
                 Fussman, & K. Jettmar  (Eds.), Antiquities of Northern Pakistan, reports and
                 studies (pp. 173–200), 3
Rehman, E. S. (1996). "Archaeological Reconnaissance in Gandhara". Department of      Archaeology & Musuems, Government of Pakistan . Karachi.
Zwalf, W. (1997). "A Catalogue of the Gandhara Sculpture in the British Museum". London